Politics (BA)
By choosing to study politics at Acadia, you'll transform and deepen your understanding of power and governance – from local to international. You will be able to become a more engaged citizen, and understand the workings of political systems to be able to make a difference within or outside of government.
Studying politics focuses your attention on the pressing problems of our times and the potential for changing them. Acadia offers courses that develop the analytical skills, theories, and knowledge necessary for you to understand power, culture, law, policy, and government in Canada and around the world. Our courses engage with contemporary issues, including peace and war, environment, development, and media.
Be Inspired
The politics department at Acadia is small and close-knit, with a great sense of community. In addition to small class sizes, professors maintain an open-door policy, and are always eager to help you succeed. We believe in helping foster our students' growth as engaged citizens and actively encourage you to get involved in a variety of societies and events in addition to your studies. Our department's student association (APSA) hosts lectures, social gatherings, election and debate events, and other activities where students and professors can meet informally.
Future Careers
Activism
Business
Consulting
Education
Film making
Government (municipal, provincial, federal)
International development
International relations
Journalism
Law
Non-governmental organizations
Policy analysis
"Studying Political Science at Acadia University was a fun, challenging and unforgettable experience. My professors were supportive and pushed me to read and write more and better than I ever thought I could. Together with my classmates, we learned to think creatively and critically about power, inequality, and social change. I finished my degree excited to continue studying politics and with all the skills I needed to excel at graduate school."
- Brynne Sinclair-Waters, BA with Honours in Political Science ('10)
First Year at a Glance
Semester One
POLS 1303
Law/Politics & Government
ENGL 1413
Writing & Reading Critically 1
LANG 1xx3
Language other than English
HUMANITIES 1xx3
Introductory humanities course
SCIENCE 1xx3
Introductory science course
Semester Two
POLS 1403
Global Politics, Law and Culture
ENGL 1423
Writing & Reading Critically 2
LANG 1xx3
Language other than English
HUMANITIES 1xx3
Introductory humanities course
SCIENCE 1xx3
Introductory science course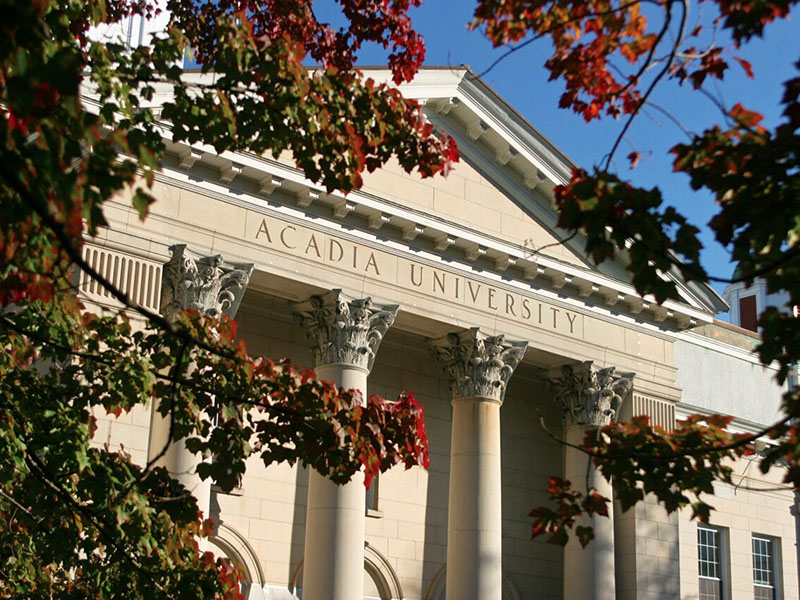 Download Co-op Information

(488.4 KiB)
Honours: Thesis-based, with research

Get Involved:
Acadia Politics Students' Association
Politics Film Series
Student government (ASU)
Debate Club
Model UN
The Athenaeum newspaper
Water Watch
Oxfam
The Acadia Farm
Axe Radio